I love all things crunchy and salty – and let's be honest, sweet too. Here are 2 super quick recipes that I whip up on a weekly basis.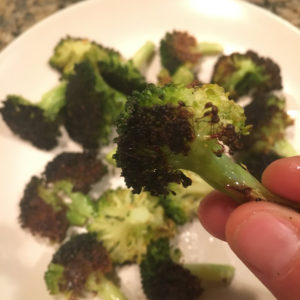 Broccoli "Fries" – These baked little trees are surprisingly delicious. I even have made these for house guests and there is not a tree left on the tray. I usually make two pans and then eat and entire pan when it is still hot and crispy right out of the oven :)
Remove most of broccoli stem and separate into the smallest trees possible. Place "crown" side down (very important) on a tray greased with Coconut or Olive Oil. Season with salt/pepper. I like Spike seasoning. Bake at 400 F for 20-25 minutes. Keep an eye on these babies, because they are easy to burn.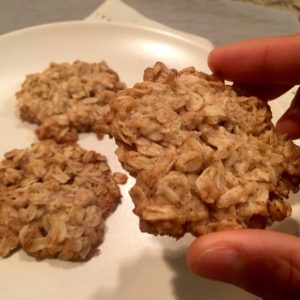 Maple-Oat Crunchies – These are technically cookies, but sometimes I break them up and sprinkle them on my smoothie bowls.
2 C rolled oats, 3/4 C plus 2 T gluten free flour (I Like C4C), 1/2 t cinnamon, 1/8 t sea salt, 1/2 C coconut oil, 1/2 C pure maple syrup, 2 t vanilla extract.
Preheat oven to 350 F. Combine oats, flour, cinnamon and salt in bowl. Add oil, syrup and vanilla. Drop by rounded tablespoons on a parchment-lined baking sheet.  Gently flatten dough (optional – sprinkle extra sea salt on top) and bake until golden brown – about 15 minutes. Cool and enjoy!