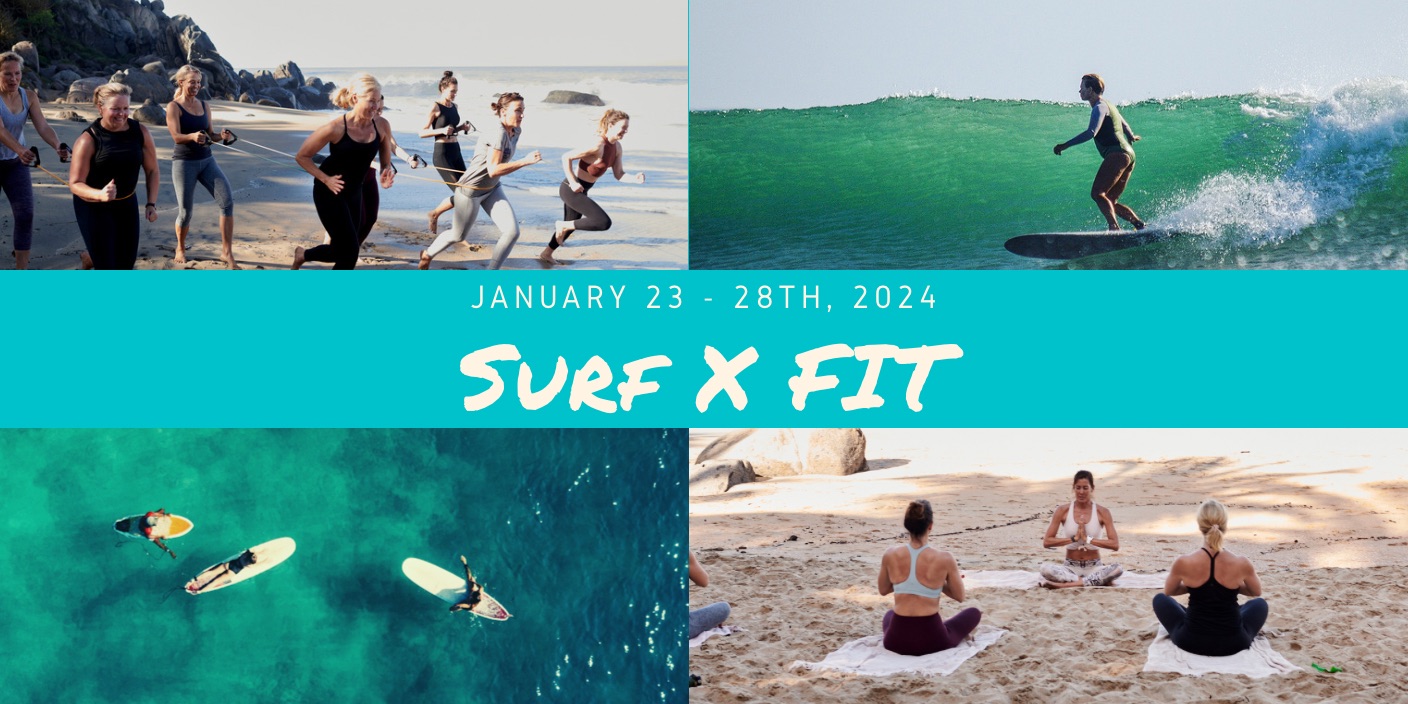 January 23 – 28th, 2024
COME SURF WITH US!
We are taking all the FUN and FITNESS from our signature retreats and adding in DAILY surf lessons and coaching!
All surf levels welcome! Whether it is your first time holding a board or you are already charging on green waves, our experienced coaches will have you feeling safe and confident on your very first day. Beginners will learn basic surf skills and etiquette. Intermediate/advanced surfers can choose to work on more advanced maneuvers (bottoms turns, cutbacks, floaters, etc) and will absolutely learn to generate more speed, power and flow in their surfing!
Daily core and lower body workouts will compliment and enhance our surf sessions, while restorative yoga will relax and rejuvenate our bodies and mind.
Here in Punta Mita we follow the flow of the ocean. Surf is not just a sport, but a lifestyle! Depending on the tide, we may surf early, or later in the afternoon and even paddle out for a beautiful sunset session. We have 6 awesome uncrowded surf spots to choose from. If the waves are not breaking right out in front, we will take a panga (local boat) to find the best surfing option for our group!
In addition to basic surf skills, you will learn: Water safety • Surf etiquette • Paddling techniques
YOUR RETREAT INCLUDES:
Beachfront accommodations
All meals
Daily surf lessons and board rental
Daily workouts and ALL activities
Surprises and mucho Surf STOKE!
AIRPORT TRANSFERS **No extra taxes or service fees!
*Airfare to Puerto Vallarta (PVR) and alcoholic beverages not included.

Local knowledge of best surf spots and beaches!
Afternoon excursion to nearby Sayulita for shopping and exploring.
Jungle hike to Monkey Mountain for gorgeous 360 degree views of the point!
Free afternoons to hang by the pool, nap in the hammocks or enjoy more beach time!

Dawn patrol surf sessions may require being up at 6:30am :)
Daily fitness and yoga classes are optional.
Gorgeous ocean-front accommodations with views of the entire Bay!
We will be visiting our favorite local restaurants and taquerias for delicious, healthy meals.
"The SurfXFit was truly an adventure of a lifetime. From the daily workouts and time in the water to the new friends and great food, this is a trip that I will never forget. By the last day I felt confident on a surfboard as well as stronger and healthier from the variety of activities. Shanti clearly knows her craft and the knowledge that I gained through her instruction will remain with me. She has assembled a fun, knowledgeable and professional team of surf instructors that I was sad to say goodbye to. I am already looking forward to booking another trip soon."
"Wow, words cannot express how much Shanti's Surf retreat has motivated me to get moving, try new things, conquer my fears and above all, have FUN! Shanti has a way of getting you excited about being active and getting out of your comfort zone. Not to mention the delicious meals, excursions and surprise activities all far exceeded my expectations. I honestly can't wait to go back! :)"
Retreat Payment:
Paypal or Venmo: A non-refundable deposit of $500 is required to secure your spot, with the balance due by December 23rd. Checks are also accepted and payable to Shanti Tilling can be mailed to:
Shanti Tilling
13301 SE 79th Place #A402
Newcastle WA, 98059-3236
Please write "SurfXFIT" in the notes section of the check.
Cancellation policy:
You may cancel PRIOR to December 23rd and receive a full refund of any balance paid (excluding deposit). Due to advance cost of travel, accommodations, and food, we will not be able to accommodate any refunds for cancellations after December 23rd. We highly recommend you purchase travel insurance!
Accommodations
Accommodations in beautiful 3 & 4 bedroom beach-front condos!
$2,900 – *Shared suite – King Bed
*Must register with roommate
$2,700 – **Shared room – Twin Bed
**Solo guests will be paired with a roommate
$3,350 – Private suite/en-suite bath – King Bed
$2,600 – Small private room/en-suite bath – Twin Bed *One available!
Food:
Plenty of *locally sourced fruits, vegetables, whole grains, and fish. Local chefs are happy to accommodate any food preferences, allergies, and sensitivities. Alcohol not included. *organic when available.
Transportation:
We will pick you up and deliver you back to the Puerto Vallarta Int'l airport (PVR) on the first and last day of retreat.