Private Training Weeks
Quaranteam Trips
Virtual Retreats
Private Training Weeks • Custom Quaranteam Trips • Virtual Retreats
Your health is my #1 priority! 90% of each retreat-day happens outdoors. Social distancing protocols
and extra cleaning and safety precautions will be taken!
Private Training Weeks
Are you looking for a fresh start, or mental and physical reset? YES!
I offer you a week of sweating, playing, and learning in my beach paradise! We will co-create a magical wellness vacation geared towards working out and also working in. We'll fine-tune workouts that balance and strengthen YOUR body. Spend time peeling back a few layers while breathing, meditating and journaling. Eat fresh, healthy, deliscous food, and of course have lots of 'fun in the sun' play time! You will return home with a new set of healthy habits, mindfulness techniques, a renewed sense of purpose and a fresh perspective on life!
Benefits of custom weeks:
Customized program for physical fitness, nutrition and mental wellness.
All one-on-one/Individual attention.
Performance Breathing, Meditation, Journaling,
Functional Strength, Mobility, Cardio, Core and Yoga.
Post-retreat home program – Learn how to incorporate your custom program into your daily life.
Weekly/Monthly check-ins!
Will you have an awesome beach vacation – Yes!
Will you sweat, and play, and chill, and dream? – Yes!
Will you challenge your body? – Yes!
Will you return home with a new sense of your own power? – Yes!
Will you learn tools that will help you THRIVE during challenging times? – Yes!
Ready to dive in? CONTACT ME HERE!
Virtual Retreats
Ahhhhhhhhh…. a Staycation.
Can't jet off right now? No problem. You can have an AMAZING wellness experience right in your own backyard!
1 or 2 day virtual retreats are a GREAT way to practice self-care. Solo or with your Quaranteam Crew, get excited for 1-2 days of working out and working in! We will spend time together practicing FUN and functional movement that aligns with everyone's goals, and breathing and journaling to connect with your deepest desires.
SAMPLE DAY:
Exploratory Breathing + Journaling
Morning Movement Prep + Workout
Smoothie Bowl Demo
Break
Afternoon Pilates sculpt
Yoga + Meditation
Journaling
Let's make it happen!  CONTACT ME HERE!
Private Groups
Are you planning a special destination birthday trip for you and your friends? Or maybe a family surf "camp" for spring break?
Sweat Play Live can customize the perfect trip for groups of 6 or more. We have hosted a variety of get-aways including yoga retreats, fitness-based groups, surf camps, "mom's escapes" and birthday weeks to name a few. We will help you create your own personalized vacation. You can choose from beautiful palapa-style casitas on a private beach, luxury boutique resorts, and private oceanfront villas with incredible views of the Pacific. All packages include one ACTIVity a day (surf or SUP lessons, hiking, or biking) and airport transfers. You customize your meals, add yoga or fitness classes, massages and spa treatments, deep sea fishing, Mexican cooking classes, or Salsa dance lessons. You describe your perfect getaway and we will handle all the logistics. From the moment you arrive all you need to do is start enjoying your vacation!
CONTACT us for our Custom Retreat Information Form and let us help you plan a great event!
Corporate Wellness & Team Building Retreats
The benefits of an active, healthy lifestyle extend past the gym and into the office and our work life. Creating a culture of wellness in your business will not only benefit the employee's health, but the health of the company as a whole. A team building retreat with Sweat Play Live incorporates camaraderie, creative problem solving , and fun in the sun! Through group exercise, team activities, excursions and adventure, your team will bond and foster a more energetic and productive workforce.
CONTACT us for our Corporate Retreat Information Form and let us help you plan a great event!
Lead Your Own
Are you a personal trainer, group exercise instructor, or yoga teacher looking to plan an amazing retreat for your clients and students? We handle all the logistics and organization for your group, so you as the trainer/teacher can focus on leading classes and the objectives of the retreat without any outside worries. SPL will handle your guest emails and retreat payments, and even create a section on our webpage just for your retreat. We will also design a custom flyer for you to market to your clients and students.
Leading retreats is a fun way to connect with your clients on a deeper level, and at Sweat Play Live we want you to ENJOY the experience just as much as your guests do.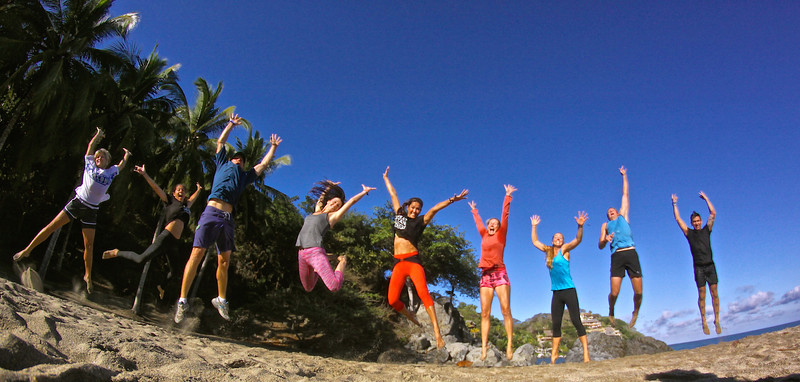 Custom Quaranteam Trips
You can't choose your family but you can choose your Quaranteam!
In addition to solo weeks, I offer custom wellness retreats for very intimate groups… think 2-4 people. Are you and your crew looking for a fun and safe way to recharge your batteries? Come down to Punta de Mita and play, and laugh, and sweat, and RECONNECT!
Yoga, surfing, snorkeling, beach bootcamps, art classes, cooking lessons, hiking, whale watching… we can create a magical experience for you!
Ready to create your perfect week?? CONTACT ME HERE!
Why Sweat Play Live
Relationships – Shanti strives to use local businesses whenever possible – about 99.9% of the time. She has spent years meeting local vendors, scouting great restaurants, and discovering cool, off-the-beaten-path experiences for her guests. By creating a retreat with Sweat Play Live, you will be supporting the local economy. Sweat Play Live also donates money and supplies to SAYULITANIMALS, a local animal-welfare organization.
Intimate Groups – You could choose to take your group to one of the many yoga retreat centers. While they may be lovely locations, you can expect to be taking classes or sharing your space with 40,50, even 100+ of your closest friends. Sweat Play Live caters to groups from 8-20. We have carefully chosen unique/boutique venues where the focus is more on individualized attention, rather than high guest-turnover.
Customization – The possibilities are endless! You can customize YOUR perfect retreat. Do you imagine a casual jungle hike followed by sunset yoga on paddle boards? Or maybe your WOD includes flipping tractor tires down the beach before heading our for surf lessons… As a fellow trainer and fitness instructor, Shanti understands your fitness fantasies and can help you create a perfect getaway for you and your clients.
Commission – beyond offering you and all-expenses-paid vacation, hosting your own retreat with Sweat Play Live should also be an attractive additional source of income. We offer an amazing compensation plan.
If you would like more information on creating your group retreat in Mexico, please CONTACT us for our custom retreat info form. We will then contact you to set up a phone conversation to discuss your ideas. We look forward to hearing from you!