Grinta-  Italian – meaning to "hang tough"
Manuel, an ex pro Grand Tour racer and lead guide for our InGamba Portugal trip, points twice to his back tire and says "Just focus on the wheel." I take a deep breathe as I slip my hands into the drops and pull up within 3 inches of his wheel… I know what this means – it is time to work. We start to accelerate and he yells "Grinta!"
I know how to suffer. I spent a good part of my adult-life competing in mountain bike races, ranging from 2 hours to 8 days. As Manuel starts to lead me into this attack on my husband, Mack, and another fellow guest, I look to the top of the hill – it is far. I am ready to mash the pedals and dig deep but remembering Miguel's words, I instead focus on his back wheel and just settle into the rhythm. Grinta. The climb passes by almost effortlessly and I shoot a sly smile as I pass Mack at the top.
This is what has taken me 42 years to learn. Stay present and work smarter, not harder. Whether it be attacking on a climb, losing the last 5 pounds, or getting a report in by the Friday deadline – focus on the task at hand and release the attachment to the goal or outcome. Things will go a lot smoother.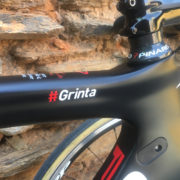 The next time you find yourself looking at the clock during a tough workout or stressing over the amount of emails in your inbox, just take a deep breath and focus on what is right in front of you. The next pedal stroke, the next rep, or that next email WILL get done. Grinta and before you know it you'll be flashing a sly smile for a job well done.