[av_textblock size=" font_color=" color=" custom_class="]
20 years ago I met Lisa. She was the manager of Skylonda, one of the original wellness retreat centers in Northern California. Every day, rain or shine, she would take guests hiking in the Santa Cruz mountains. After lunch, she would lead them through an exercise class and sometimes an additional yoga class. Can you say dream job? Maybe you can't, but I did – I thought she had won the career lottery! Soon after, I began my training to be a Taebo instructor and within a year I was also personal training clients at a local gym. I never forgot about Lisa and knew that someday I wanted to lead my own wellness retreats. You have to remember this was 1995 and there was no such thing as a fitness or yoga "retreat."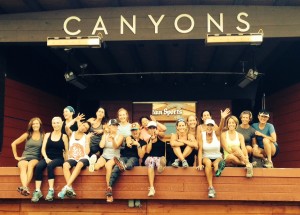 Fast forward to 2004 – The summer I met my now husband on an organized road cycling trip in France (That is a fun story and possibly another blog). In the 11 years since our first trip, Mack and I have cycled, hiked, surfed, and scuba dived all over the world. Many of our adventures have been with organized groups or outfitters. 16 to be exact: 6 MTB trips, 1 MTB/surf/Yoga trip, 3 road cycling trips, 2 diving trips, 1 yoga retreat, 1 surf camp, 1 week of buddhist meditation study, and even 1 couple's retreat (yikes). I will also throw in the 3 MTB multi-day stage races that we did – just because it takes some major organization to provide travel, gear, lodging and food for 50-400 racers. In addition to these organized vacations, we have also planned many of our own multi-sport trips. I didn't know it at the time, but all of this travel was "research" for my fitness retreat company, SweatPlayLive. I know many people shy away from traveling with a group, so why do we seek out organized trips for our vacations?
It is a no brainer… literally. You do not have to think. All of your meals, activities, and transportation are set up for you. It is SO AWESOME to just show up and have everything planned out for you.
You know you will be staying active – YAY! You know exactly when and how much exercise you will be getting, I mean enjoying.
You meet like-minded (cool) people. I have become very good friends with many people we have met on our trips.  *You may even meet your future spouse!
Traveling to new places and enjoying the local culture with people "in the know." When you visit a new place, especially foreign countries, local knowledge can save you tons of time and money, and why would you want to follow the herd to all the tourist traps anyways?
About 6 years ago, I started looking for a fitness retreat to go on by myself. I went to 4 of the most famous fitness retreats out there, and the schedules were all the same: Class, breakfast, class, class, lunch, sit by the pool, class, class, dinner. Now, I am not knocking it, and if that sounds great to you then I am happy to give you the names of these places. But for me, even as a fitness professional and someone who teaches and takes tons of classes, that is not what I want to do on a vacation. So I decided to create my own, and SweatPlayLive fitness retreats was born. I design each SPL retreat after my perfect day: I love to get up early and do a kick-ass workout. Dive into a healthy breakfast before our ride, hike, surf, etc. Enjoy local flavors for lunch.  Explore the area, shop, or just hang out. Do some yoga or stretch before dinner. Add in a margarita or two, and that to me is a PERFECT DAY!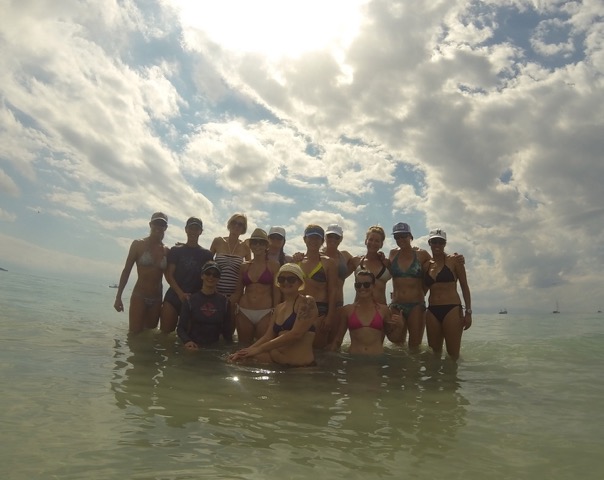 I know I am a little biased, but I want to tell you why I LOVE my SPL retreats.
We workout every morning 1- 2 classes before breakfast. No fear… there is coffee/tea and fruit served before if you would like.
The meals and restaurants that we go to offer many healthy choices. When we eat out at restaurants you can order whatever you wish off the menus.
All the activities are included. Depending on the location, we offer hikes, surf, sup, snorkel, fun activities like zip-lining, or ropes courses. You will never see "these activities are offered at an additional cost." (I personally hate that.)
Our groups are small 6-16 people. You will have individual attention and will never be lost in the crowd… or doing yoga with 100 of your closest friends.
SweatPlayLive started in Mexico, and I love showing people secret spots and "off the beaten path" adventures in all of our locations.
We offer evening yoga and/or meditation. All of our workouts and activities are optional, and if you choose to skip the day, you still can join us for an incredible mind/body stretch class.
There are no hidden costs. Service Fees? Nope. Airport transfers? Those are included too… and not just within a 30 minute or 1 hour window. I realize guests are traveling from all over the country and they should not be penalized if the only flight available to them arrives later that night. You land on the first day of the retreat, we pick you up.
All vacations are great time to unplug and re-connect with your true self. If you also enjoy great workouts,  outdoor adventures, and meeting other fun, like-minded women to share tons of laughs with, then I invite you to join me on an upcoming fitness retreat!
*Want to come down and play with your own tribe? Let's chat about creating a trip tailored just for you!
[/av_textblock]