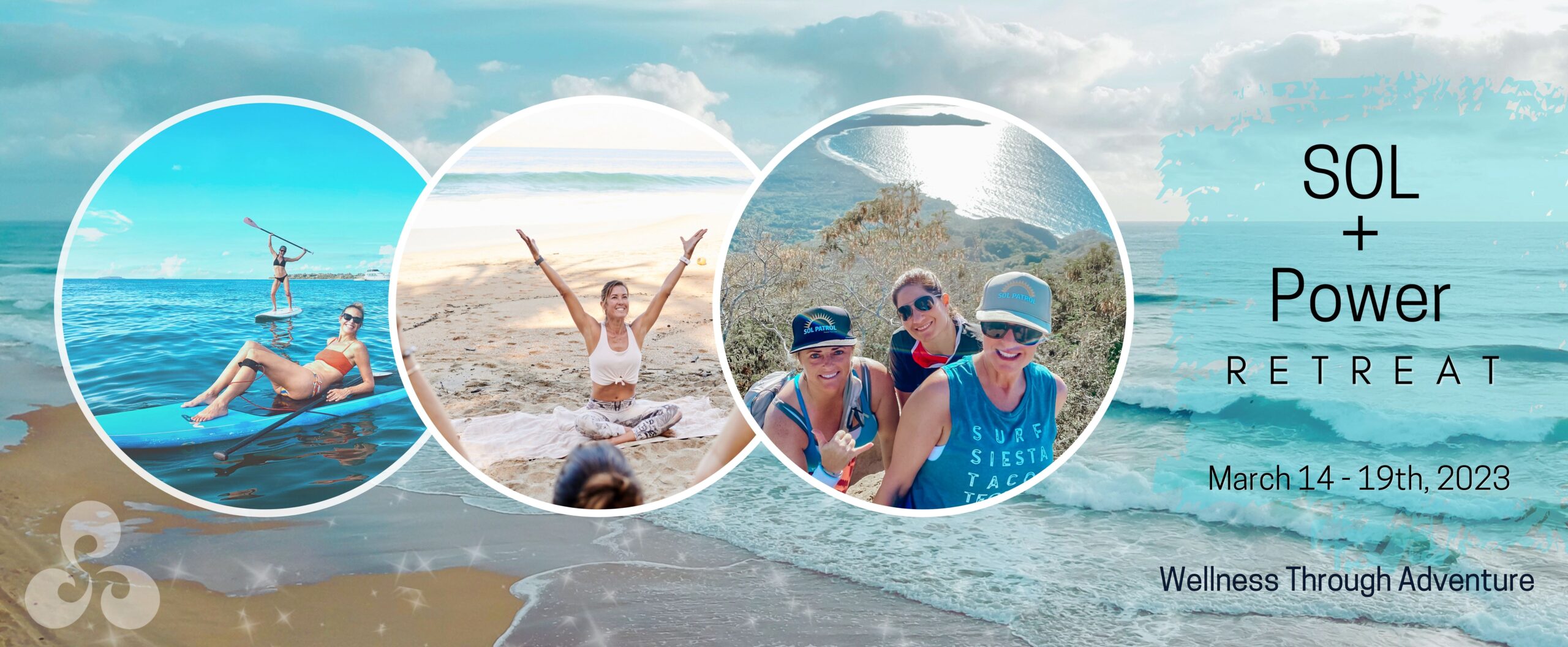 March 14 – 19th, 2023
Here at Sweat Play Live, we believe in creating momentum in our life by playfully challenging our minds and bodies. During this intimate week you will have MORE FUN than you thought possible, and also build strength and confidence to pursue your passions and dreams!
Join Shanti for a week of fun and challenging fitness classes, goal setting, and sandy adventures! Our "clubhouse" will be a beautiful luxury property in peaceful San Pancho, just 60 minutes north of Puerto Vallarta, Mexico. A stunning beach and friendly waves provide a magical backdrop for your FITcation in paradise!
Each day begins with an energizing morning workout followed by a delicious breakfast. After an athletic adventure, either a jungle hike or a day on the water, we will enjoy a healthy lunch at one of Shanti's favorite restaurants!
This is your vacation after all, so you will have plenty of time in the afternoons to relax on the beach, read a book by the pool, and even be treated to a well-deserved massage. We will finish off our day with a rejuvenating yoga and breath session, and maybe a sunset margarita or two.
YOUR RETREAT INCLUDES:
Gorgeous ocean view accommodations on expansive property!
All incredible meals. In-house and dining out to favorite local spots!
1 Surf lesson and 1 SUP session + board rentals.
Daily workouts including pilates, beach bootcamps, boxing, yoga, pool training and more!
Restorative breath work + myofascial release classes
"Core Power" mindset and goal setting workshop
Local art class
Afternoon catamaran sailing adventure, scouting for humpback whales!
Guided outings to Sayulita and Punta de Mita!
1 Blissful massage
The best tacos in the world!
Incredible Gift Bag and MUCHO MUCHO Surprises!
AIRPORT TRANSFERS **No extra taxes or service fees!
*Airfare to Puerto Vallarta (PVR) and alcoholic beverages not included.

Waking up to tropical vibes everyday!
Hike to private beaches and waterfalls.
Feeling joyful and re-energized from sunrise to sunset!
Experiencing San Pancho, Sayuita and Punta de Mita like a local as Shanti shows you the sights and secrets of her Mexican playground.

All activities are optional. 2 exercise/renewal classes offered per day.
Morning workouts may begin begin between     7:30 – 8am.
You may not ever want to return home!
Retreat Payment:
Paypal/Venmo/Zelle: A non-refundable deposit of $1,000usd is required to secure your spot, with the balance due by February 14th, 2023. Checks are also accepted and payable to Shanti Tilling can be mailed to:
Shanti Tilling
13301 SE 79th Place #A402
Newcastle, WA 98056-3236
Please write "SOL Power" in the notes section of the check.
Cancellation policy:
You may cancel PRIOR to February 14th 2023, and receive a full refund of any balance paid (excluding deposit). Due to advance cost of travel, accommodations, and food, we will not be able to accommodate any refunds for cancellations after February 14th, 2023.
The Accommodations
Gorgeous luxury beachfront accommodations. Single occupancy or share a room with your travel buddy!
$3,150 – Private room, king bed/en-suite bath
$2,850 – Shared room, queen beds/en suite bath
$2,550 – Shared room, twin beds/en suite bath
Food:
Plenty of *locally sourced fruits, vegetables, whole grains, and fish. Local chefs are happy to accommodate any food preferences, allergies, and sensitivities. Alcohol not included. *organic when available.
Transportation:
We will pick you up and deliver you back to the Puerto Vallarta Int'l airport (PVR) on the first and last day of the retreat.