If I could certify my favorite things as "AWESOME", Coconuts would be at the top of my list.
My fondest childhood memories are of visits to family in Hawaii. Stringing leis with Tutu (my grandmother), fishing and snorkeling off my uncle's boat and huge meals of Kalbi (Korean BBQ), Kailua pig, poi (yes, I love poi), and haupia (coconut pudding). Coconut has always been magic to me, but for many years it got a bad rap – "…Too high in saturated fat, it will clog your arteries, etc. " Fortunately, we now know better and the health benefits of coconut cannot be denied…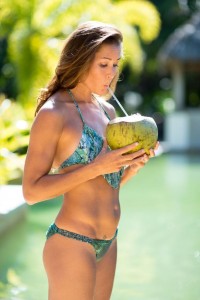 COCONUT OIL – The fat in coconut is a Medium Chain Triglyceride (MCT) which is processed by the liver quickly and immediately converted to energy instead of being stored as fat. It is very thermogenic meaning it increases energy expenditure and you burn more calories.
Coconut oil stabilizes blood sugar – it helps glucose enter your cells, slowing and reducing insulin levels in the blood.
Studies also show that the consumption of MCT actually improves brain function in mild Alzheimer's patients.
Almost 50% of the fatty acids in coconut are Lauric acid, so when digested it can kill pathogens like bacteria, viruses and fungi!
COCONUT WATER- Contains potassium and magnesium and rehydrates the body while reducing inflammation.
Living in Mexico, I feel so fortunate to get fresh coconuts anytime I want. If you do not have a coconut stand on your corner, grab some from the market but BEWARE most coconut waters you see in the markets (yes, even WholeFoods) are pasteurized and/or from concentrate (double pasteurized). And don't let the "flash-pasteurized" label make you feel better… It is basically saying,
"I am going to hit you in the face, but don't worry because it will be quick."
It is still a hit. And in the coconut water world it means it is still killing all the nutrients and enzymes. Who does this? Brands like C2O, Naked Juice, O.N.E, Vita Coco, Zico, Purity Organic, Amy & Brian's, etc. YIKES. So what does that leave? I personally have only found one brand – Harmless Harvest. It is the one that looks pink!

Here are 4 ways I incorporate coconut into my days:
It is no secret that I love my post-workout smoothie bowl. It is one of my favorite rituals and Almond Joy (Coconut, Chocolate, Almond) is incredible!
Protein of choice, 1/2 C coconut milk, 1 C. water/ice, 2 T. chia seeds, 2 T. cacao nibs, spinach, stevia optional. Blend all and top with shredded coconut, almonds, more cacao nibs, and sea salt!
Awesome Coconut Oatmeal:
In large pot heat 1 can coconut milk + 8 cups water to gentle boil. Add 2 heaping cups steele cut oats, 1/2 maple syrup (or proffered sweetener), 1 T. Vanilla extract, 1 Cup unsweetened shredded coconut, Sea salt to taste. Reduce heat to simmer and cook an additional 35-50 minutes. Stir often.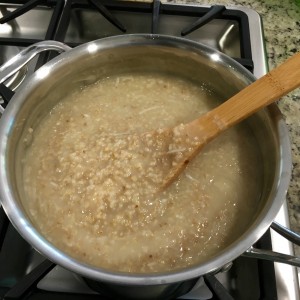 Quick Coconut water "sports drink":
My last 2 seasons of MTB racing this is all I used and I felt great!
Fill bottle with 1/2 water, 1/2 coconut water, pinch of sea salt
Baked Coconut Shrimp :
These are super awesome and SO EASY!!
Peel and clean shrimp.
Bowl with 1/2 cup cornstarch, salt, pepper, (optional cayenne)
Bowl 2 egg whites
Bowl 1 cup unsweetened shredded coconut
Pre-heat oven to 400F. Line pan with foil and light coat of coconut oil. Dredge each shrimp in cornstarch, then egg white, then coat heavily in coconut. Place on baking sheet. Bake about 15 minutes. Enjoy hot! I serve mine with honey :)
Last, but not least, I do use coconut oil on my body, lips and especially dry elbows. Whatever is left on my hands, I wipe through the ends of my hair!